JOHN CICALA'S Resume
---
This recent client review tells you all you need to know:
John was amazing!!! He kept everything on point from before ceremony music to bridal party entrance to keeping everyone moving on the dance floor! Our wedding guest were super impressed & never left the dance floor! I can't thank John enough for helping us with our special day! I would definitely recommend him to anyone! John is genuine soul who is darn good at what he does! The energy, the passion and the skill John has them all! Thank you so much!
- Katrina & Ryan
YOUR CHOICE FOR A SPECIAL DAY
My name is John Cicala, I bring lots of experience with me, providing entertainment for hundreds of weddings over the years. I have refined my skills making it possible to give you the best event ever! As a DJ I can play the crowd and keep them entertained all night long. I will provide you and your guests with a day of memories that will last forever.
Check out one of John's recent 5 Star reviews from The Knot.com!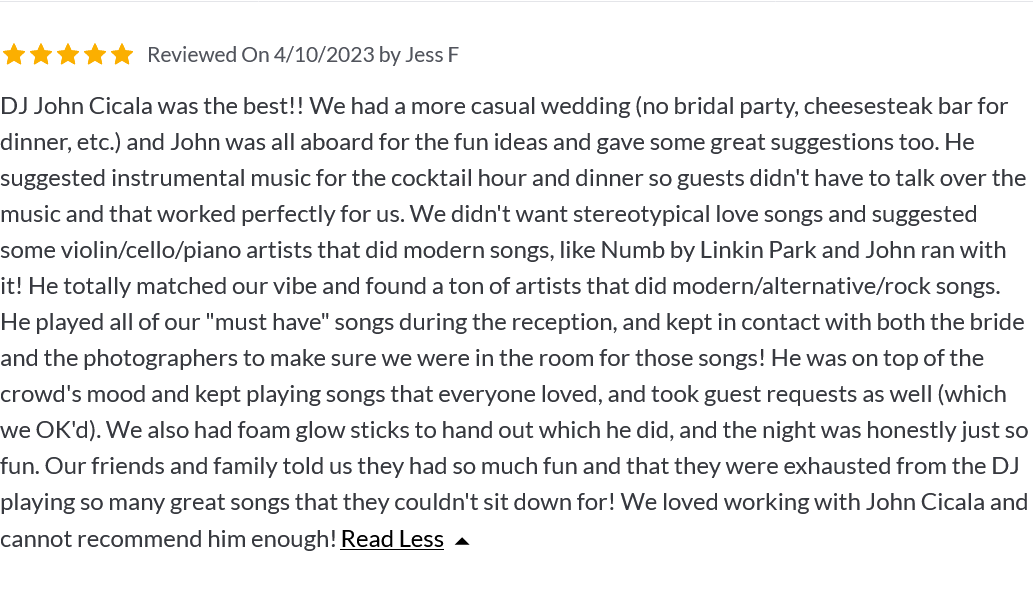 The planning of a wedding can be stressful but planning your music doesn't have to be. I prefer to meet with couples face to face and get to know them and their style of music. I will go over every step of your wedding and assist in giving you the day exactly how you want it.
I have been a professional DJ for over 30 years providing entertainment at weddings, and other events, in venues all over Pennsylvania, New Jersey and Delaware. I have provided entertainment for hundreds of weddings over the years, and have refined my skills making it possible to give you the best event ever!
After you have booked me for entertainment, I will set up an appointment to go over the information and fill in all the details. I look forward to meeting you…let's get the party started!
Check out another great review on John from WeddingWire
DJ John with happy clients at the Sheraton Valley Forge - Photo credit Duca Studios
Skills:

Many times couples hire a wedding coordinator to assist in their planning and the flow on the day of the event but, more often than not, those responsibilities fall unto the DJ. As your proxy event coordinator I will make sure everyone is on the same page by having a schedule of events prepared for all the vendors involved in your event. This assures that when key events occur everyone is in place and ready. For example, special dances aren't just announced without warning. I will make certain that the caterer is aware for food service and the videographer/photographer are in place to capture the special moments. While you are enjoying yourself, I will make sure that the caterer and other vendors are all working together to make your day the special day it deserves to be.
DJ John packs the dancefloor at Downingtown Country Club - Photo credits Fuller Photography
DJ John keeping the dancefloor going at the Barn at Stoneybrooke
DJ John's clients romantic first dance at the Barn at Stoneybrooke
DJ John rocks the dancefloor at Rosewood Farms
Music:

Music choices can sometimes be overwhelming but with my past experiences, and my vast music catalog, I can assist you in picking and personalizing all the music for your special day.


DJ John with "THE MARSOMS" - Loch Aerie Mansion - Malvern
EPIC Lighted lettering - Loch Aerie Mansion - Malvern
Audio Equipment:

Main Console: Numark Mixdeck & Platinum controllers with Lenovo laptop running Virtual DJ
Speakers: Mackie Thump 15p 15" self powered speakers
Shure Wireless SM58 Microphones
ProFX DJ Facade with White or Black Scrims
Ceremony Sound: My ceremony sound system is clean and sleek. I do my best to stay out of your pictures but still give you the best quality sound for your ceremony. There are options for either hand held mics on stands or lavalieres for more discreet sound projection. The same speaker is also available for a videographer to pull clean sound directly from or even live musicians can hook up to it with their instruments
Speaker Premium ceremony sound consisting of EV EVOLVE 30M with 8 channel built in mixer (iPad Controlled)
Music Dell Laptop running Virtual DJ
Microphones Phenyx Pro 4 Channel Wireless Microphone 2 – Lapel Mics 2 – Handheld Mics
Lighting:

Dual Light Totems with option for black or white scrims, ADJ FXArray LED Wash effect lights, Chauvet 4Play LED Light bar, Chauvet Circus 2.0 Effect, (8) LED PAR Uplights, (6) Rockvale wireless LED Uplights, 2 Mini Moving Head Effect Lights
DJ John Cicala's elegant lighting setup at the Old Mill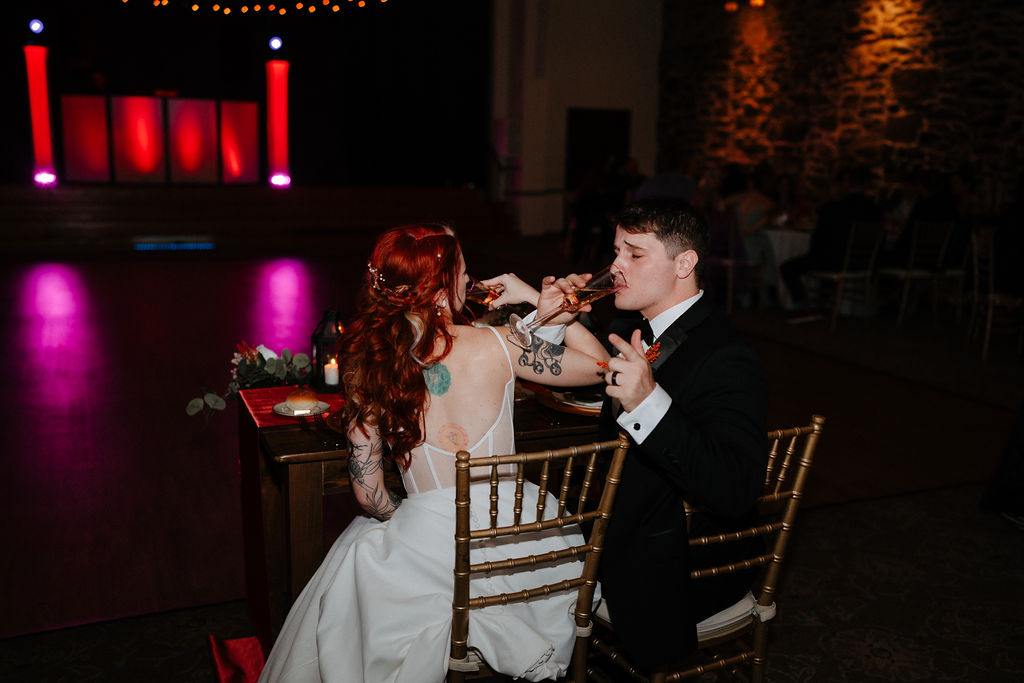 Customer Assurance:

Planning a wedding will be an enjoyable experience with me. I will do everything possible to give you the confidence that your Ceremony/Reception will be the best day ever. When considering your entertainment choice, it is good to know that a DJ provides not just the entertainment but the confidence needed to provide a problem free event
Client Thank You Notes
Zeimer/O'Shea Wedding - Farmhouse at People's Light
Roberts/Nickerson Wedding - Springton Manor Farms
Schloo/Wheeler Wedding - Washington at Yellow Springs
Dugan/Silverman Wedding - DuPont Country Club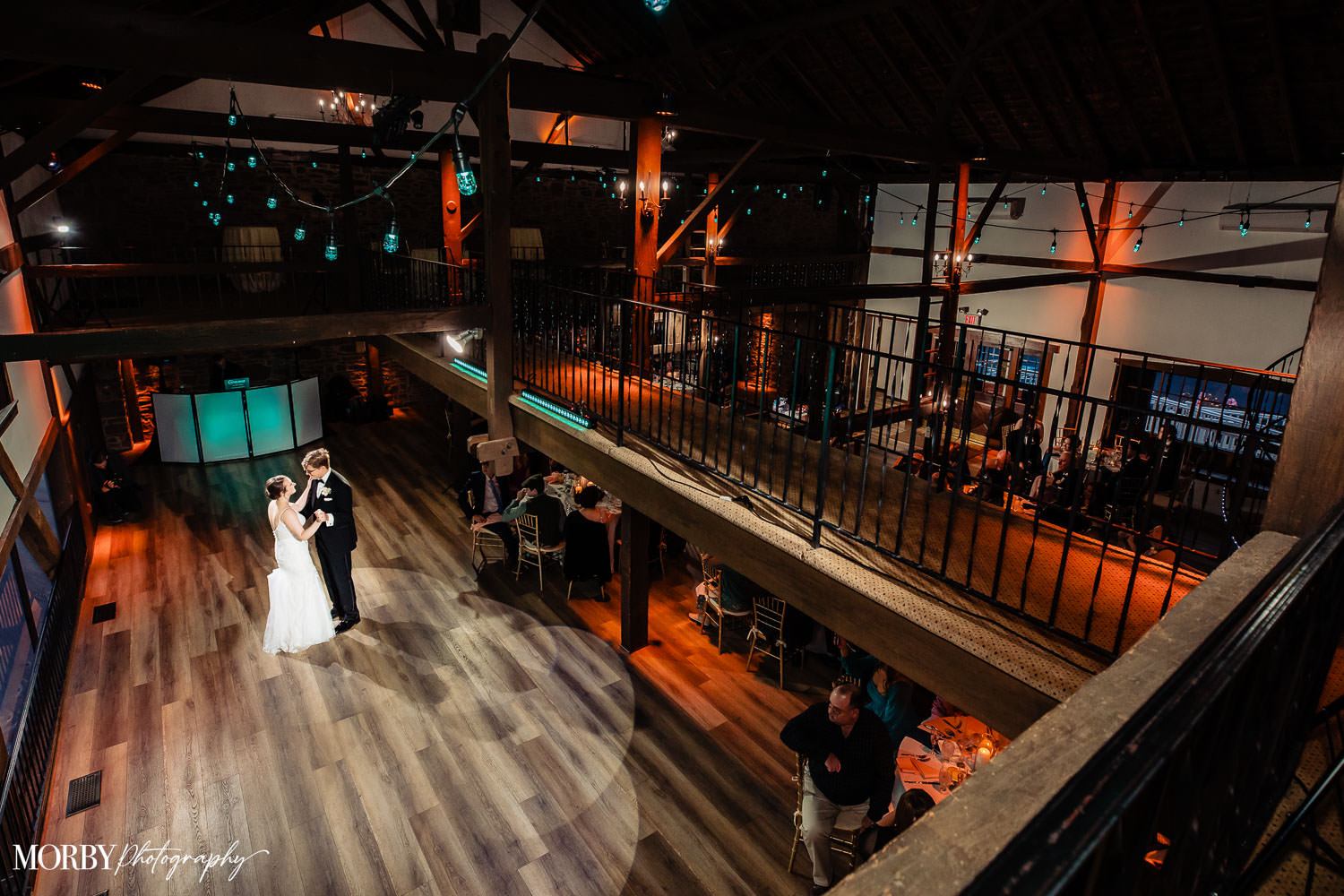 DJ John Cicala at the Barn on Bridge - Photo credit Morby Photography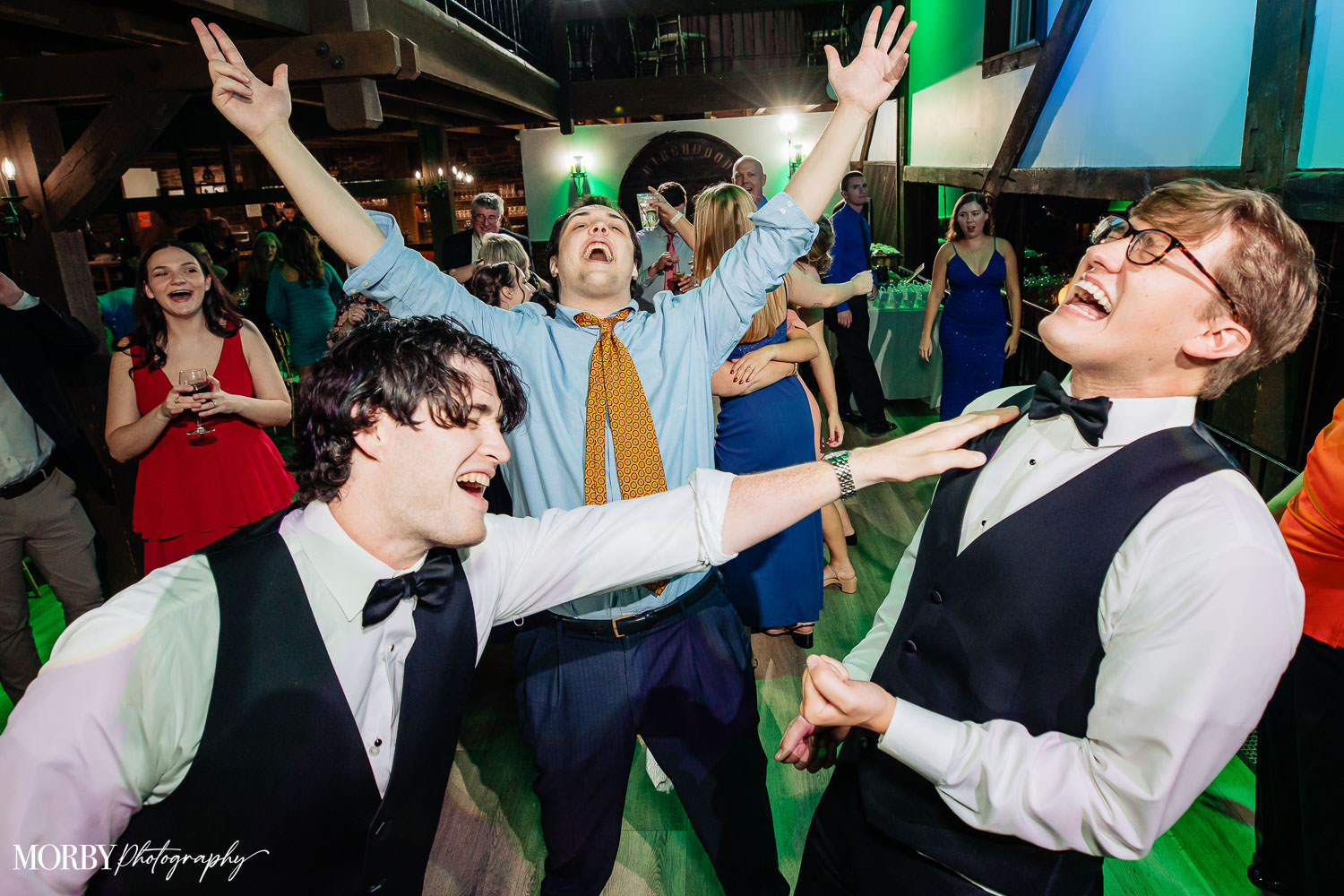 DJ John Cicala's elated clients on the dancefloor at the Barn on Bridge