TODD FREDERICK 'S Resume
---

Clients who are looking for the very best that Silver Sound has to offer need look no further than DJ Todd Frederick.
When it comes to experience Silver Sound DJ Todd Frederick is a full-time DJ and has done more events than any other DJ within the company.
Todd has provided entertainment in the finest five-star venues, as well as exclusive luxury properties, prestigious country clubs,live venues, and most unique locations.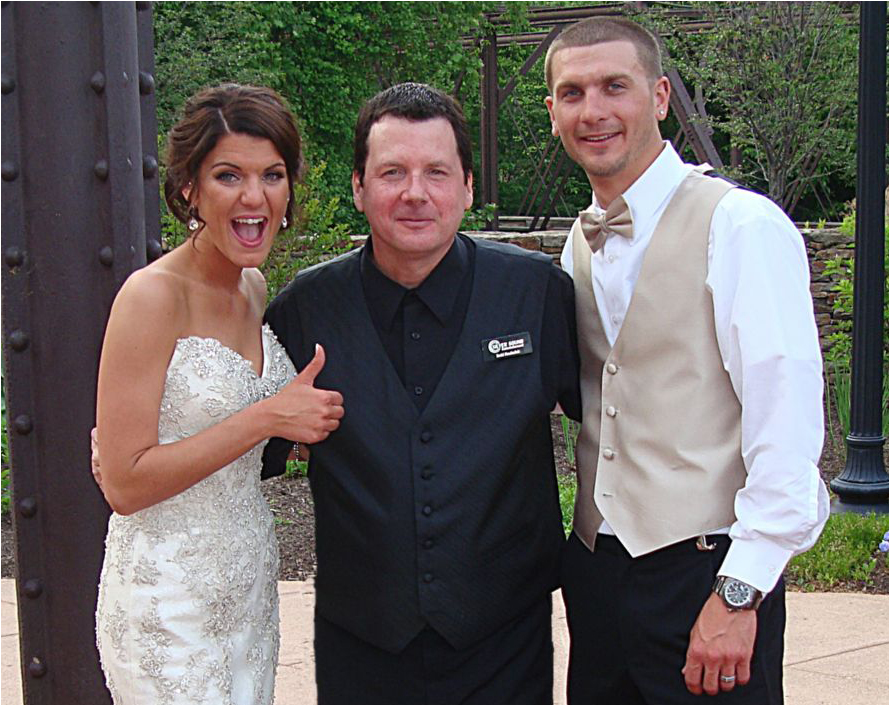 Consistently striving to provide the very best in entertainment,


Todd is dedicated to excellence,and he proves it every time he performs. His attention to detail shows in many ways from the initial meeting with his clients to the last song played at the end of the night.
You can feel confident that Todd Frederick is a passionate professional who can provide just the right mix of elegance and dynamic fun. One former client may have said it best: "Todd Frederick is a very real guy... An "un-stuffy professional"... At our event, it was plain to see he really cared about the success of the party!"
Check out one of Todd's recent five-star reviews on WeddingWire.com!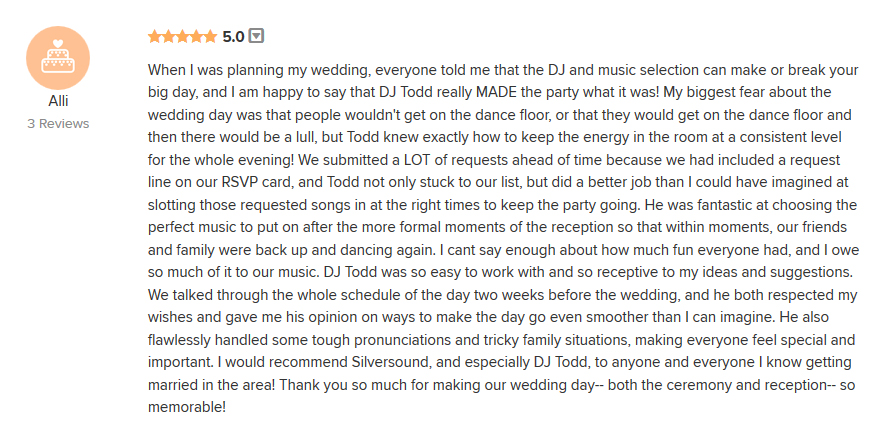 Check out one of Todd's reveiews on TheKnot.com!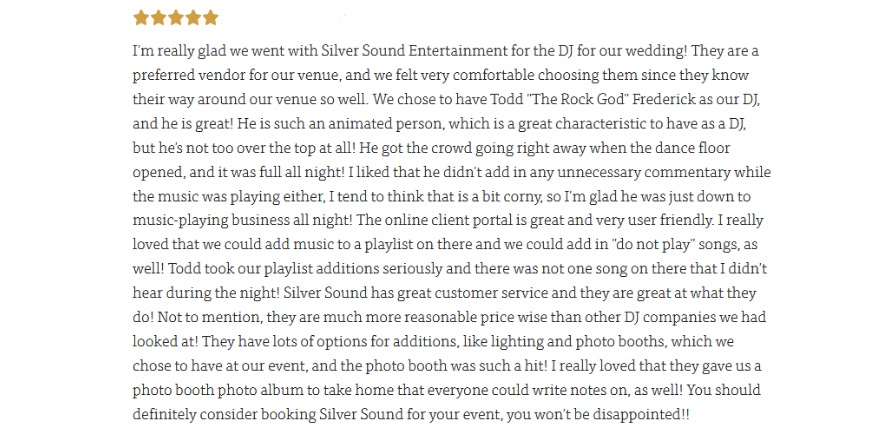 Todd Frederick is a Five Star Silver Sound DJ.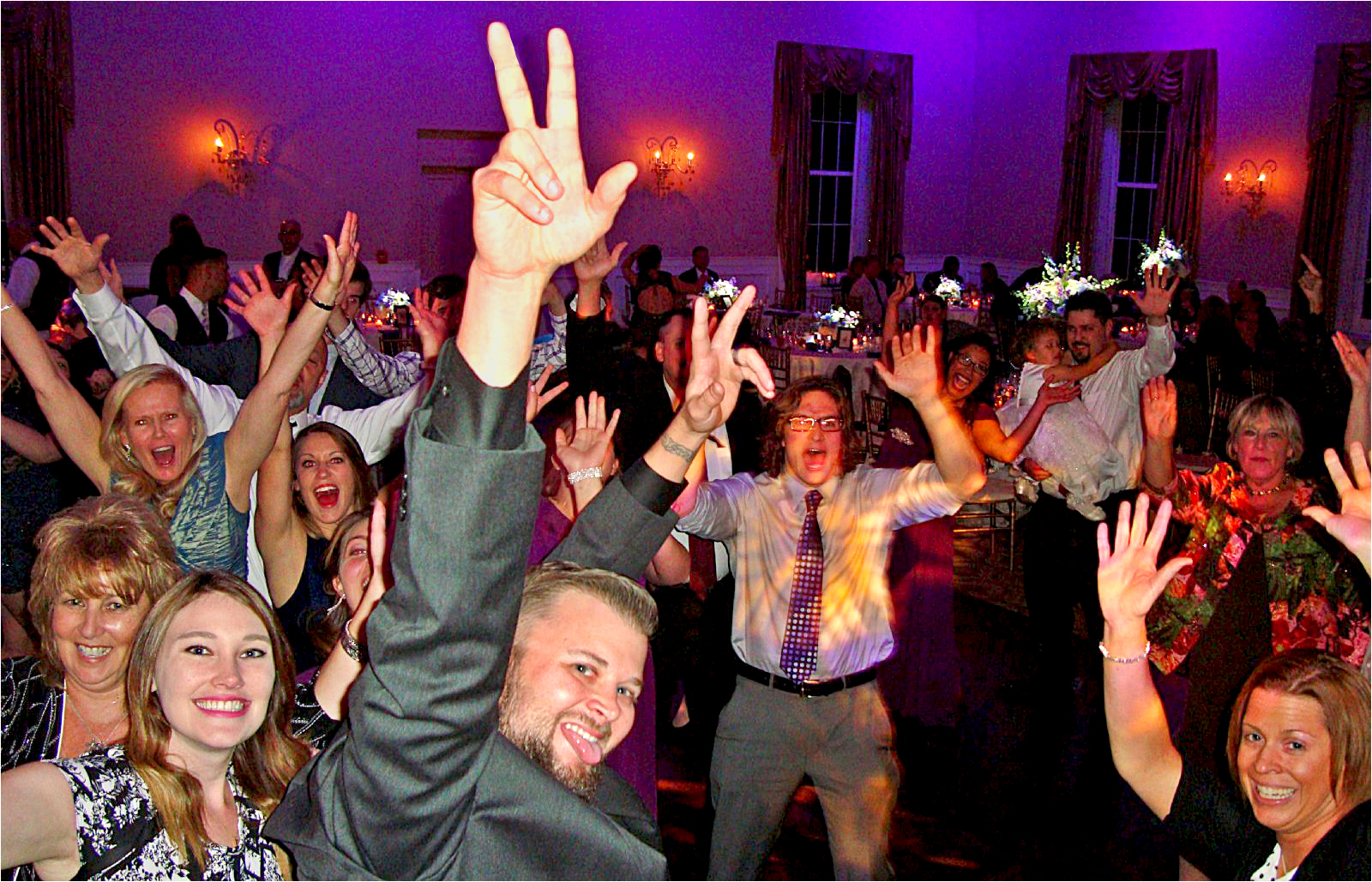 Recent Client Feedback - "Todd was in every way the perfect DJ for our wedding! Planning the process through the online system was so easy, and Todd called the week of the wedding to discuss specifics and make sure everything was set up for what we wanted. The day of the wedding, Todd was on time, professional, and composed. He walked everyone through the introductions, speeches, cake-cutting, etc. The dance portion of the night was fabulous! He played the songs that we requested and was able to seamlessly integrate songs that got the party going. The dance floor was packed most of the night, and chants of "one more song!" were met with one last fantastic song. One of our guests, a professional DJ himself, commented on the caliber of the sound quality and the song choices. Even our photographer noted that it was some of the best music hes heard at a wedding. Some of our favorite memories of the day are moments on the dance floor with family and friends. We highly recommend Todd to anyone looking for a wonderful MC and a great DJ! Thanks for everything, Todd! " - Bridget & Martin

DJ Todd Frederick at the Chester Valley Golf Club in Malvern
Photo compliments of Fuller Photography
Todd Frederick possesses over fifteen years of successful mobile, radio, and nightclub MC and DJ work, providing entertainment for parties, mitzvahs, corporate events, charity events, and well over a thousand wedding receptions.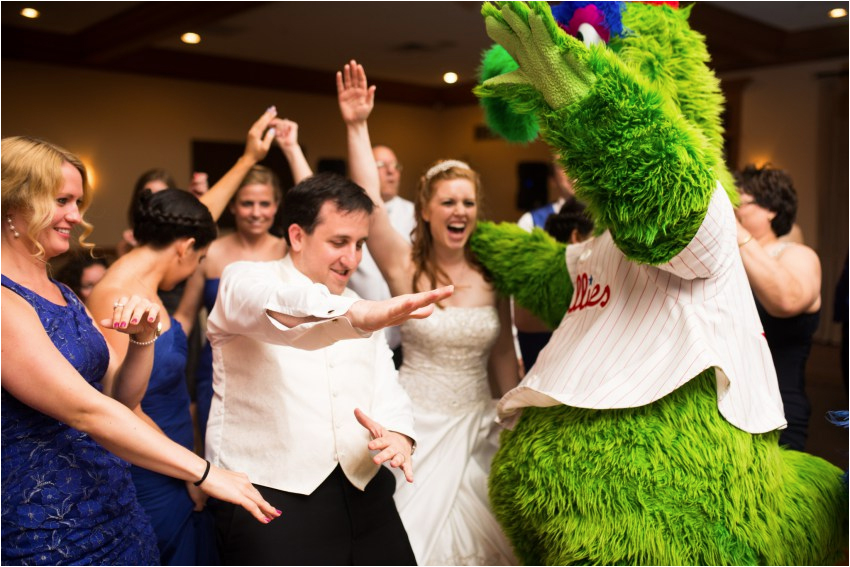 Having worked in radio and nightclubs, Todd has a broad range of experience and music knowledge. Your preferences will certainly be accommodated. At your event, would you prefer lively and energetic or conservative on the microphone? It's up to you!
Thank You Notes:
Boscaino Wedding - Appleford - Click here!
Mount Wedding - Hotel du Pont - Click here!
Paciello Wedding - Radnor Hotel - Click here!
Wise Wedding - RiverCrest Golf Club & Preserve - Click here!
Kao Wedding - Philadelphia Marriott Downtown - Click here!
Madden Wedding - Normandy Farm - Click here!
Fiederlein Wedding - Columbia Station - Click here!
DJ Todd spoke about choosing songs on Robert Ryan Catering's blog! Click here!
DJ Todd's Barn On Bridge wedding featured in Philadelphia Magazine! - Click here!
DJ Todd's Columbia Station wedding featured in Philadelphia Inquirer! - Click here!
Read about one of DJ Todd's weddings at the Manor House at Commonwealth here! - Click here!
Skills:

Todd has actively participated in the collaborative efforts of the entire DJ staff, continuously refining his craft and attending international disc jockey trade shows and seminars.
Feel assured that you are hiring a passionate professional committed to delivering the exact style of entertainment your event deserves, presented in an engaging and complementary style. Todd will work behind the scenes of your event, coordinating the efforts of everyone involved with your day, helping to execute a flawless event.
Music:

Compiling a list of music to play at your event can be a daunting task. The most important thing to remember is YOU are in charge of the music played at your event.
Todd has amassed a comprehensive music collection, cataloging all the most popular music from 1940 to the most current Top 40. If you are having a wedding reception, mitzvah, corporate event, or any other party requiring music, his diverse knowledge, flexibility, and experience will easily accommodate your guests' musical tastes, for both young and old.
His ability to read your crowd produces an environment for lively dance floor fun. By combining your needs and wants with his knowledge and talent, you are guaranteed to entertain your event well beyond your already high expectations.





Todd Frederick at La Massaria

Todd Frederick's Voice Demo
Todd Frederick proudly supports and promotes the following causes: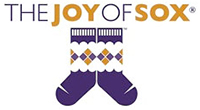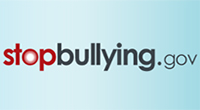 Audio Equipment:

Todd's sound equipment has been assembled to provide your event with the highest-quality of sound.
Todd knows while it is very important to have your guests up and dancing it is also very important to give your guests the ability to carry on conversation at their tables.
Todd's primary sound system consists of two Bose extreme "high-end" L1 Series II cylindrical radiator speakers, and two Bose extreme "high-end" B1 bass modules, along with two Bose extreme "high end" B2 bass modules giving you superior sound second to none.
Are you having 50 guests or 300? Are you wanting a "Remote"ceremony ? Are you wanting a "Remote" cocktail hour? Whatever your needs Todd has got you covered with his high quality multi system set ups.
Pioneer MEP-7000 digital multi-entertainment player and controller, Denon dual-deck players, Numark players, Stanton mixer, Numark mixers, 2 Carver amplifiers, EV 15" subwoofers, Klipsch 15" full-range speakers, Ultimate Support speaker stands, 1 Azden UHF wireless handheld microphone, Shure handheld cardioid microphone, and a Yamaha STAGEPAS 300 portable PA system (perfect for cocktail and ceremony music)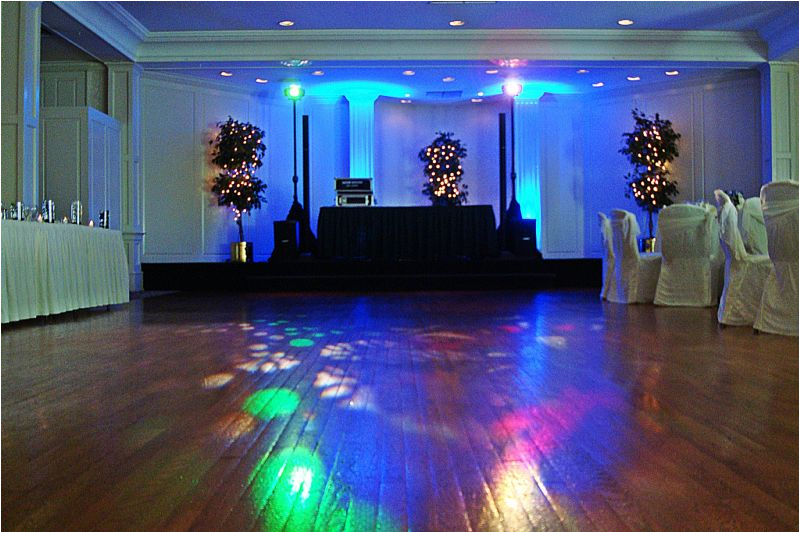 Lighting:

Three-color sound-activated Tri-Light, Chauvet COLORstrip Mini LED uplighting color bars (video), Martin Ego III (video)
Customer Assurance:

Having worked for two of the major regional DJ companies Todd has combined many approaches into the Art of DJ Entertainment. Todd want's to make all involved with the event have a wonderful and unforgettable time that will be remembered for years to come!
Click here to request a quote for Todd's services!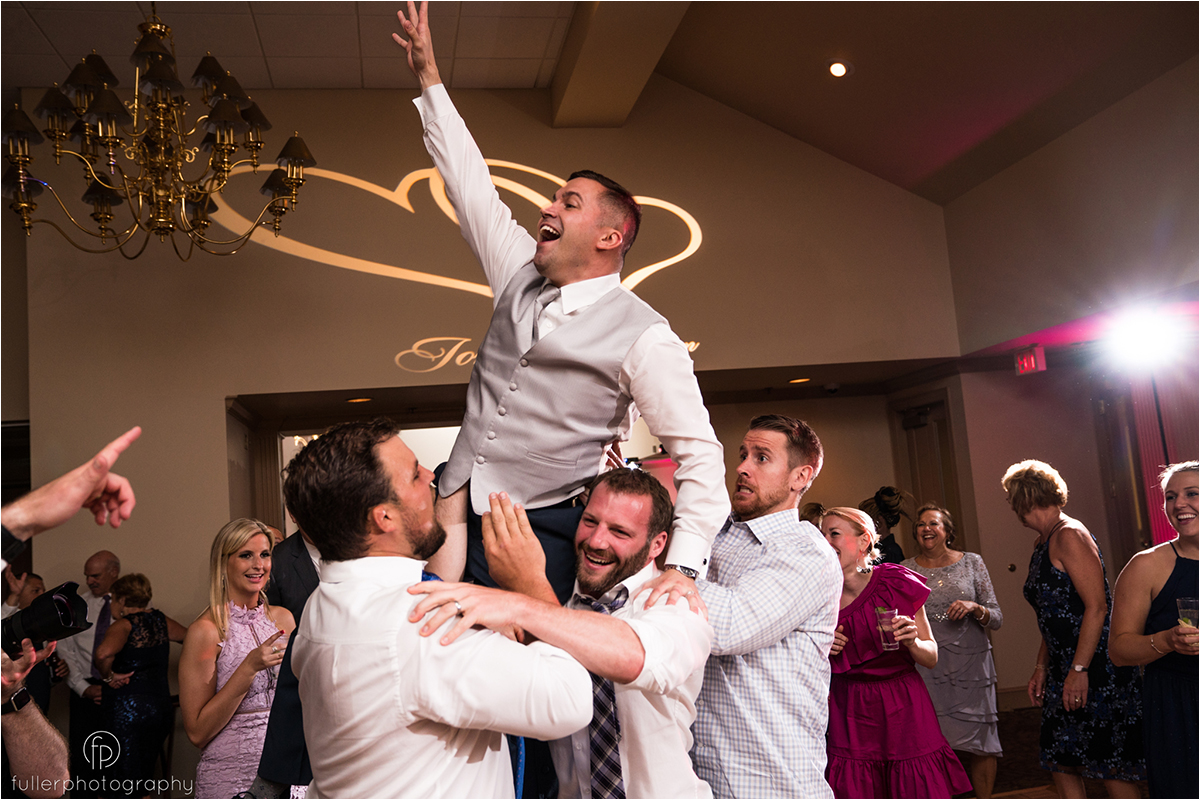 DJ Todd Frederick at the Normandy Farm Silo Ballroom
DJ Todd Frederick dazzles the crowd at Chester Valley Golf Club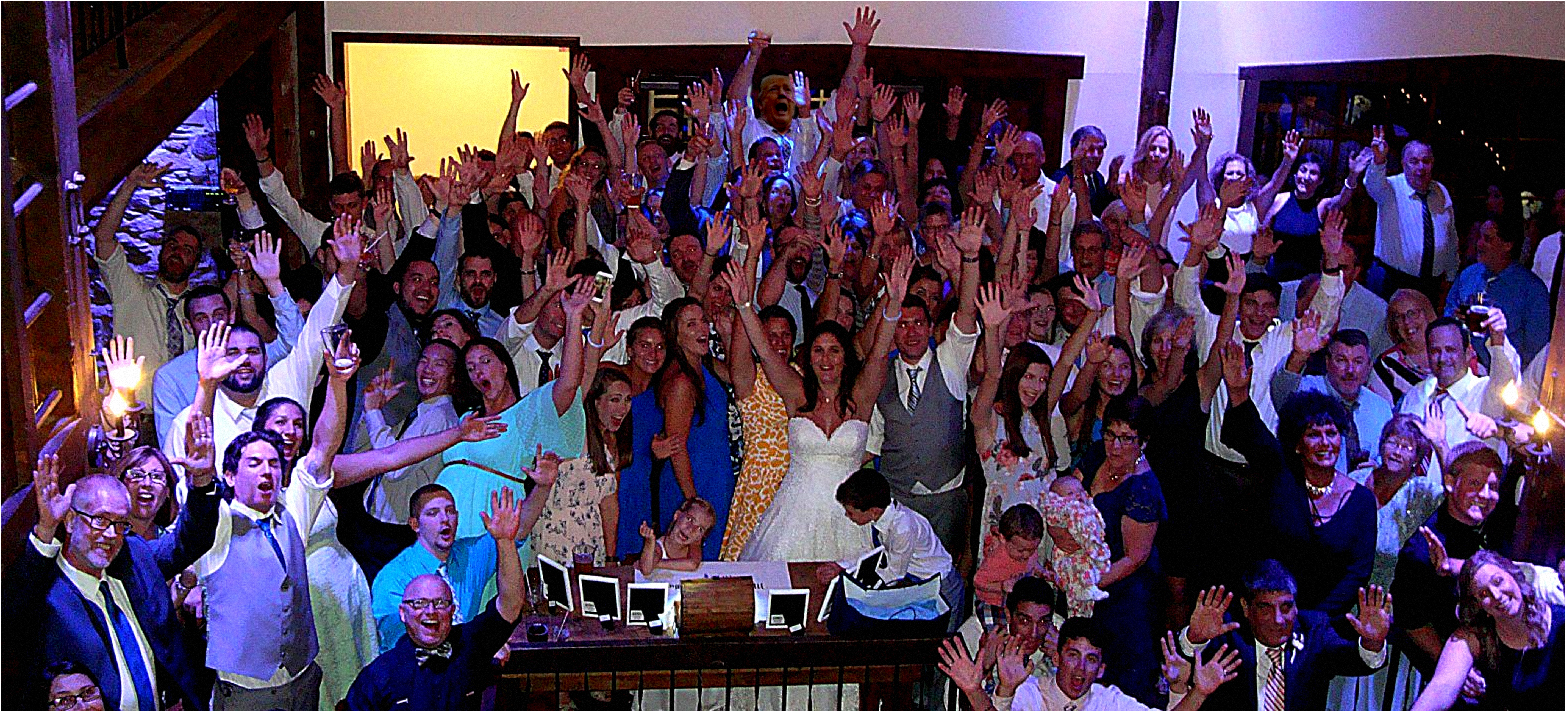 Everyone is having a great time at the Barn on Bridge with Robert Ryan Catering