Voice Demo: Click here to hear Adam Moyer introduce a bridal party!


Audio Equipment:
Main Console: Custom Technics 1200MKS turntables, Pioneer DJM-900SRT Mixer,Odyssey Black Label Case, Serato DJ & Serato Video Software powered by a 2.4 Ghz Apple Macbook Pro

Secondary DJ Console: Pioneer CDJ-900 digital turntables, Pioneer DJM-700K Mixer running Serato Scratch Live & Pioneer Rekordbox

Backup DJ Console: Pioneer DDJ-SX Controller running Serato DJ & Serato Video mounted in a Odyssey Black Label Case.

Microphones: Shure PGX Beta 58 Wireless System, Shure PGX SM86 Wireless System, Shure PG Lavalier System

Sound Equipment: QSC K12 Speakers, QSC K-Subwoofer, JBL MRX & MPRO 15" Speakers, Yorkville Elite Single 18" & Dual 18" Subwoofers, QSC, Crown, & Crest amplifiers, DBX & Rane Equalizers/Crossovers

Accessories: Odyssey Illuminated Facade, DJ Skirts Table Topper Façade, DJ Skirts Stand Skirts, Ultimate Support Telelock Stands

Moira & Andrew's Wedding Reception at the Merion Tribute House w/ DJ Adam Moyer from Adam Moyer on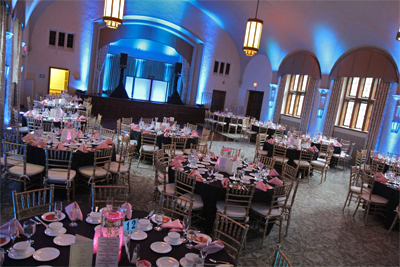 Silver Sound DJ Adam Moyer's audio-visual presentation




Adam Moyer uplighting the Columbia Station in Phoenixville


Lighting:
BlizzardQ-Stick LED Sound active dance floor wash lights , Chauvet LED Colorstrip Mini (video), Chauvet LED RGB Techno Strobe (check it out), Chauvet Eclipse LED & Laser Effect (video), American DJ Micro Star Lasers (video), American DJ Micro Gobo Laser (video), American DJ Scan 250 DMX Scanners (video), Martin T-Rex Effect Light (video), Martin Raptor Effect Light (video), American DJ Starball Effect (video), American DJ LED gobo projector, Omnisistem 1500 watt wireless DMX Fog Machine, Chauvet Bubble Machine (video), 1000 watt Strobe Light, Eliminator DMX Controller, Elation Co-Pilot Controller, 15" Duratruss crank stands and truss

UPLIGHTING: 20 x RGBA Wireless & Battery Powered LED PUCK fixtures, 4 x American DJ RGB Wireless Mega Go Bars, 4 x Chauvet Colorstrips. Ask Adam about his special uplighting packages to transform your ballroom!
Customer Assurance:
Adam focuses on maintaining the highest of standards to ensure an unforgettable event and a packed dance floor.


Click here to request a quote for Adam's services!
Click here to email Adam with any questions!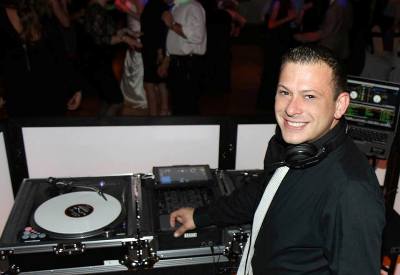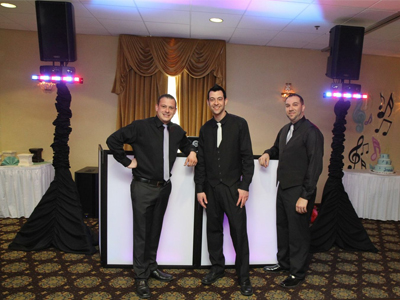 Adam Moyer, Kevin Rhude, and Steve Vazquez get ready for a mitzvah