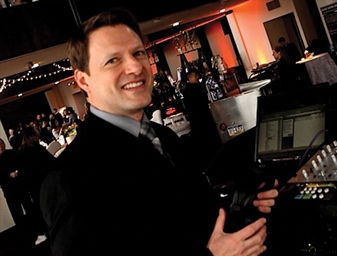 VAUGHN A. WALTER'S RESUME
vaughnwalter@silversound.com
Mission Statement:
I endeavor to provide premium quality service to each and every client. My mission since 1994 has been to continually find ways to improve from conducting the first meeting to playing the last song. Through good relationships with clients, keeping up with technology and constantly learning about music I strive to become the best DJ I can be.

Vaughn's objectives are:
to arrive completely prepared for events,
to arrive at least 2 hours prior to events,
to offer personalized service for events,
to play enjoyable music selections at the right time and volume,
to maintain high standards in appearance and presentation,
to avoid sounding the same as every other DJ,
to make each event a unique musical experience,
to keep your guests happy, comfortable and dancing,
to keep my clients worry free, relaxed and enjoying themselves

Vaughn Walter is a Five Star Silver Sound DJ.

Experience:
as a Disc Jockey:
since 1992 over 14 years of successful DJ work providing
entertainment for over 700 events including Weddings,
High School Proms & Dances, College Parties & Formals,
Corporate Events and Nightclubs.


as a Musician:

Percussionist with Skyline Rock Band, Anderson U. Jazz Band,

27th Lancers & Reilly Raiders Drum & Bugle Corps

(Vaughn is experienced with 70s,80s+90s Rock and big band swing)
Percussionist & Timpanist with Anderson Symphony.

(Vaughn is experienced with playing classical music)
Vocalist with the Chorale at Anderson University, also
The Coventry Singers and Emmanuel Lutheran Choir

--------------------------------------------------
Skills:

DJ: Vaughn is able to please many different audiences with creative and experienced handling of music selections. He will "read the crowd" and utilize requests from his clients and their guests to present music that will work in each situation. He transitions smoothly from one song to another through beat mixing and from one genre to another by finding common musical elements. Vaughn endeavors to be inclusive. He has a broad knowledge of music, not just the most current popular tunes but also many decades and many styles. Not relying primarily on group dance songs or microphone over-hype, Vaughn invites people to the dancefloor with good music.
MC: Vaughn is known for correct pronunciation and appropriate language on the mic. He doesnt use those cliche' MC words or voices but smoothly announces each formality with style.

Music: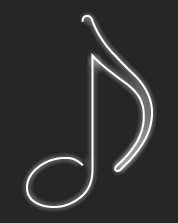 Vaughn will develop a music plan based on your input for each segment of your event. His preparation surpasses other DJs who play the same music at every event. Doing this homework before the event assures continuous good music, a sensible song order and a pleasing flow.

Vaughn's own music collection spans from 2008 back to the 1930s and includes far too many genres and titles to list. Vaughn plays from digital formats, either CDs or MP3s (although he did spin vinyl in the past) He is capable with ethnic and world music such as Irish trad.Latin (salsa, merengue, cha-cha, bachata, reggaeton), Indian (bhangra) and Greek music. Vaughn is familiar with many genres such as jazz, swing, oldies, classic vocalist, classic rock, disco, r&b, hip hop, reggae, breakbeat, house, industrial, drums&bass, trip hop, French Lounge and the new lounge styles.
Need help picking the music for your wedding day? Click here!
--------------------------------------------------
Audio Equipment: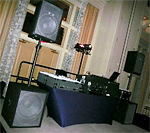 the right equipment for any situation, Vaughn can entertain small events of under 50 people or large events of over 1000 people. Vaughn owns 12 different pairs of speakers of all sizes and 8 amplifiers. Backup equipment is always on hand. He is capable of setting up independent sound systems in multiple rooms such as for a ceremony, cocktail hour, dinner and dancing all in separate areas. Extra consideration is given to equipment choice and speaker placement for best results at each venue. Working hard to provide appropriate music at appropriate levels with even dispersion and good room coverage is the priority.
Vaughn's utilizes post CD technology:
PCDJ Red and Traktor 3 Software
Lenovo T60p Laptop
(Intel Core2 T7200 CPU @2.0Ghz 2.0GB RAM @997 Mhz XP)
HP Pavilion dv6500 Laptop
(AMD Turion X2 TL-58 CPU @1.9Ghz 2.0GB RAM Vista)
Iomega External Hard Drives for MP3 storage
M-Audio FastTrack Pro USB audio/midi interface
Vestax VCI-100 midi controller

Vaughn's sound system consists of:
***
Speakers:
four
EV 15" Force i
, four
EV 18" Force i subs,
four
EV SH1512ERs
also dual
7.5 ft. tall
-
B-52 stacks
with dual 15" SR-1515s and single 18" SR-18 subs for dancefloor applications.
Yamaha STAGEPAS 300
portable system or
Nady MC-12s
for remote applications like ceremonies or cocktails.
Amplifiers:
Crest
and
QSC
and
Yorkville
My Console:
Stanton
RM-80
mixer,
Stanton S-650 Mk II
CD players
Microphones
: wireless
Shure
handheld,
Samson
headset & lapel mics
Sound Processing:
BBE Maxcom
Compressor-Sonic Maximizer,
Aphex 204
Aural Exciter,
DBX 223
Electronic crossover,
DBX 266XL
Compressor/Limiter/Gate,
ART PS 4x4Pro
Power Conditioners, plus hundreds of feet of speaker cable and power cords to run sound anywhere it is needed.
***
Lighting:
Effects are chosen as best suited to each event, usually one or two for weddings.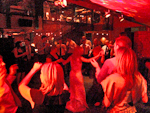 * Fluorescent TriStars(wash room in colors that change to the beat)
* black lights (cause white wedding gowns to glow)
* mirror ball with pin spots (slow dance mood enhancer)
* strobe techs (emit changing patterns and colors in unison)
* Derby effects (emit moving beams of color)
* Strobe Lights (flash white strobe)
* Sparkle effects (emit rotating white beams)
* Am.DJ Image 250 (image projector)
* Martin Ego 3 (kaleidoscope effect)


* NSI MC7008 16 channel control board
* NSI ND4600 NSI dimmer packs
* 300 watt coloredpar 64 cans provide uplighting
* Martin PR-1 gobo monogram projector

NEW! Add uplighting or monogram to your event!

--------------------------------------------------
Customer Assurance:

Vaughn offers prompt preliminary meetings at locations which are accommodating to each client.
With many varied experiences in music performance and a degree in music
(BA Music Anderson University) Vaughn is well-rounded enough to handle almost any kind of event. His approach is formal but fun, involved but not overbearing. Vaughn will keep the focus on the music and the reason for the celebration and won't try to steal the spotlight. Working hard is no problem for Vaughn who takes on challenging and demanding jobs without reservation. His best possible effort will be made to provide quality service and ensure a successful and memorable event.

click here to view Vaughn's client feedback
Click here to request a quote for Vaughn's services!


I am on facebook and YouTube
--------------------------------------------------
visit my Blog at: vaughnwalter.com
--------------------------------------------------
see even more pictures from my events here: picasaweb.google.com/Vaughn.DJ