SCOTT C. POMANTE'S RESUME
scottpomante@silversound.com
Mission Statement:
To provide outstanding, professional entertainment at your event.

Experience:
Scott Pomante has over fifteen years of successful mobile and night club DJ work, providing entertainment for proms, dances, formals, corporate events, and hundreds of wedding receptions. Scott's goal is to make sure everyone, regardless of age, is having a great time on and off the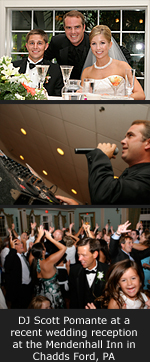 dance floor. Everyone is different, so Scott makes sure to touch upon all preferences. One question he is often asked is "Who picks the music for my occasion?"
This is an easy answer, YOU!
Prior to the day of your event, Scott will have a face-to-face consultation with you to discuss your music selections, order of events, and other details that will ensure that your event is unique.
Skills:
Scott is extremely versatile, able to please many different audiences by reading your crowd and predicting what music selections will work in a given situation. Scott is also talented in making smooth transitions from any generation to the present. He will be considerate of requests made, spontaneously mixing songs in with perfect timing.
Music:
Scott's music library spans all time periods from Big Band to today's Top 40, Dance, and R&B. In a concerted effort, Scott will assist you in the development of a music program and timeline that works with the style of your event. If you feel comfortable trusting in Scott's expertise, he has the ability to set the tone for the party, acting with either an animated approach or with a more conservative touch. It's entirely up to you!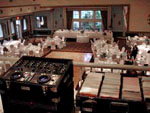 Audio Equipment:
Mixers & CD Players: Pioneer CMJ-300 dual-deck CD Player, Denon CD and Cassette hyrbid deck, Denon DX-400 pro audio mixer, JBL EON G2 self-powered speakers, Samson dual-channel wireless UHF microphone
Lighting:
Mirror ball with dual Pin Spots, Black Lights for Caribbean effect, Multi-Color Wash flood effect
Customer Assurance:
"Before any final decisions are made or contracts signed, I strongly recommend that we meet in person. It is extremely important that our personalities match and we are able to work together for this one special event. In this manner, we will ensure that your celebration will be an unforgettable occasion for all in attendance!" - DJ Scott Pomante
Click here to request a quote for Scott's services!
Click here to email Scott with any questions!