MIKE MANDATO 'S Resume
---

Only clients who want the best that Silver Sound has to offer need look towards Mike. With an attention to detail that's second to none, a talent that is suited for even the biggest stage, and a determination to go above and beyond for every customer, Mike will make sure your event is nothing less than magical.

Mike Mandato is a Five Star Silver Sound DJ.




Thank You Notes & Letters:
McGuire Wedding - Appleford Estate - Click here to read
Bramble Wedding - Phoenixville Foundry - Click here to read


Why Meet Your DJ?:
Meeting your potential disc jockey can help you get a very good idea as to whether they are the right fit for your special event. According to one of Mike's clients' recent email:
"Hi Mike! It was nice to meet you on Sunday. The votes are in and we all would love to have you as the DJ at Chris and Jessica's wedding reception!
We chose you because among the DJs we've interviewed, you gave us the most confidence that you would run our event smoothly and with class. All DJs obviously leave the music choice up to us, but you were not afraid to talk about what you recommend for a good and efficient flow for the evening.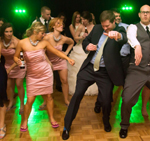 We all feel very comfortable with you and look forward to working with you!"

Mike has over fifteen years of experience in the entertainment industry, having played the most prestigious halls in the Delaware Valley and Center City Philadelphia. Specializing in weddings, Mike has the diverse musical knowledge to play for any crowd.
With extensive wedding experience credited to his resume, Mike has also spent his time spinning for one of the largest night clubs on the East Coast earning him the Pulse Weekly Club DJ of the Year Award.
Skills:

Let's call it the perfect blend: Seamless beat mixing, vast musical knowledge, and impeccable ability to read a crowd. Mike is the definition of consistency and flow, knowing what to play and when to play it, possessing the charisma to compel even the most quiet crowds to the dance floor. It is Mike's primary assurance that your event will never lag.

Music:

Mike has a diverse understanding and passion for music and the experience to play it all. Top 40, Rock, Classic Rock, Pop, Hip-Hop, R&B, Reggae, Reggaeton, Philly Soul, Motown, Oldies, and Latin Music, just to name a few! His consistently growing and evolving collection of music is sure to satiate the most discerning of tastes!
Audio Equipment:

QSC K12 speakers, Denon HC4500 midi controller, Pioneer DJM 600, DJM 3000, and DJM 300S mixers; Pioneer CMX 3000, Pioneer CDJ 100s; QSC PLX2450 amplifiers; Aphex Big Bottom Aural Exciter; EAW LA215 two-way speakers; AKG WMS40 Pro wireless microphone; Numark DMC2 digital DJ software controller; Bose L1 Compact line array speaker for cocktails and ceremonies
Lighting:

Martin Mania DC2 ambient fire effect (video), American DJ Roto Gobo rotating gobo projector (video), American DJ Rover II (video), Chauvet Color Strip Mini DMX RGB LED Color Bars (video), Martin Mania PR-1 Gobo Projector (video)

Professional Endorsement:
"I had to write to give props to Mike Mandato who was the DJ at Tiffany and Everett's wedding. I've been photographing weddings (all along the East Coast) for twelve years and have worked alongside numerous DJs. I have to say that Mike has some of the best 'crowd working skills' I have ever seen! When he had the crowd singing 'She's a Hot... House (brides new last name)' in place of 'Brick House', it was priceless. It's the kind of thing that many people would think of but would not have the guts to do. My business is based on converting clients into friends, encouraging them to 'open up' and share emotion and feeling with me for meaningful images. Because of Mike, I was able to capture better pictures all night. I can't tell you how many times a bride and groom have approached me after the reception to say 'We're so glad we hired you!'. This was the first time a bride spoke those words and included the DJ in her comments. The entire event was very nicely done. I'll definitely be recommending your company to all my clients in the future!" - Michael McNett, Michael McNett Photography
Customer Assurance:

With 15 years of DJ experience under his belt, Mike Mandato pledges to uphold, enhance, and improve the sterling reputation of Silver Sound. Through his knowledge and experience, he will assure every customer receives the best service the industry has to offer. If something looks as though it might go wrong, Mike will correct it before it becomes a problem. If something is going great, Mike will strive to make the experience ten times better! When all is said and done you will know you chose the right company and the right DJ!
Click here to request a quote for Mike's services!
Voice Demo: Click here to hear Mike Mandato introduce a bridal party!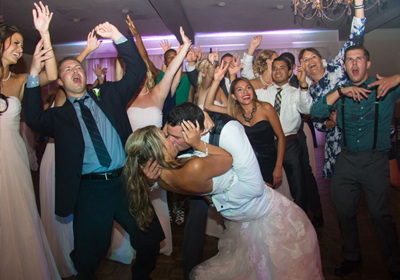 Silver Sound DJ Mike Mandato in the Warrington Country Club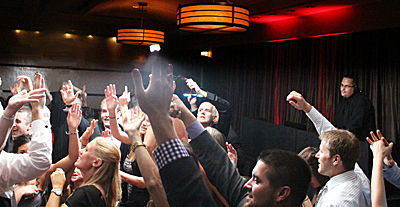 Getting the crowd excited at Sofitel Philadelphia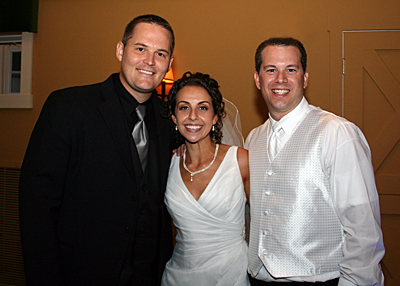 Silver Sound DJ Mike Mandato at Crowne Plaza Center City Philadelphia