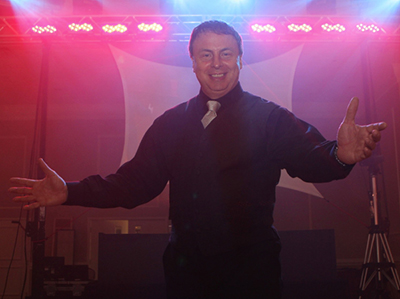 PAUL J. EVANS'S RESUME
paulevans@silversound.com
Mission Statement:
As the founder of Silver Sound Disc Jockeys, DJ Paul Evans is committed to offering boutique DJ services that include excellent client communication in all details from music selection to custom sound, lighting, and optional video setups. His complete audio and visual presentation is a truly memorable experience that can dazzle even the "toughest to please" guests.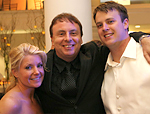 Experience:
Paul has over three decades of experience, specializing in entertaining Weddings, Proms, and College Formals, as well as serving as a private talent management specialist for Silver Sound Entertainment Corporation.
He is extremely well-versed in providing dynamic custom sound, lighting and video configurations for ballroom events. Paul is also an award winning videographer and member of the prestigious G.P.V.A. (Greater Philadelphia Videography Association), with in depth knowledge of how to
capture the moment and tell the story, and possesses superior photography skills.
Paul is also a six year member of the Philadelphia Chapter of N.A.C.E. (The National Association of Catering Executives), an organization dedicated to the execution of a flawless event.
Skills:
In addition to his in-depth knowledge of how to deliver the right music, at the right time, at the right volume, Paul also offers the option of the Multimedia Dance Party, complete with plasma screens switching from dance floor action to still photos to today's best music videos, all custom-tailored to your event's specific, special needs.
Paul has a constantly evolving ability to provide nightclub style mixing of music from the 70's, 80's, and 90's to today's Top 40 hits.
His ability to act as an MC for any formal event, be it a wedding, fashion and/or bridal show, or other event, can also be complemented with his Latin dance instruction skills.
Imagine your guests dancing to merengue and salsa music the right way... Paul can help you make that happen!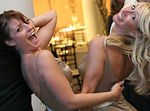 Music:
While Paul specializes in Latin, Club, Techno, House, Disco, R&B, Ballroom, World Music, Alternative, and Classic Rock, his extensive repertoire of music has been amassed for over thirty years.
Audio Equipment:
Self-powered JBL EON's, JBL self-powered EON G2s, Pioneer DJM-600 six-channel mixer,
dual Numark iCDX professional digital audio player and USB software controllers, Numark D2 Director digital media controller, Odyssey case, HP dual-core AMD powered laptop running Windows Vista, dual Apple MacBook Pro laptops running Leopard OS X, Numark DJ/IO digital audio interface, ESI-Pro Gigaport extrnal sound card, Lacie, Western Digital, and Maxtor 500 GIG USB and FireWire 800 hard drives, Stanton single-cup headphone, Samson wireless microphone, Shure SM58 handheld microphone.
Photo: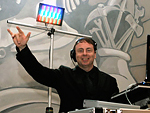 Canon 20D digital camera with 28mm-70 mm lens
Video:
One
Panasonic
ultra-portable video projector,
Sanyo
HD-VPC2 camcorder,
Panasonic
DVX100A Camcorder,
Sony
PD170 Camcorder, Numark
AVM03
triple-screen video display,
AVM02
professional audio/video mixer with effects, dual
Mac
PowerBooks
Lighting:
One Martin Mania PR1 gobo projector, one Chauvet LED Techno Strobe RGB sound-activated color panel, one Chauvet LED Shadow sound-activated blacklight panel, American DJ Mini-Strobes, one 300 Watt OmniSistem Super Strobe, American DJ Moonflowers, one Chauvet Scorpion LGX fat beam laser, four custom-built four-color flood boxes with custom sound-active controller and blacklights

Specialty Lighting:
Are you looking for a way to transform ordinary into extraordinary? Enhance your wedding color theme with a unique, dramatic and elegant look. Consider adding UPLIGHTING!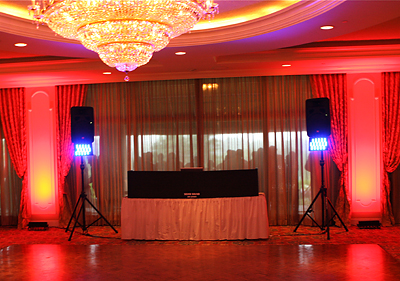 A Main Line Wedding DJ Setup at Overbrook Country Club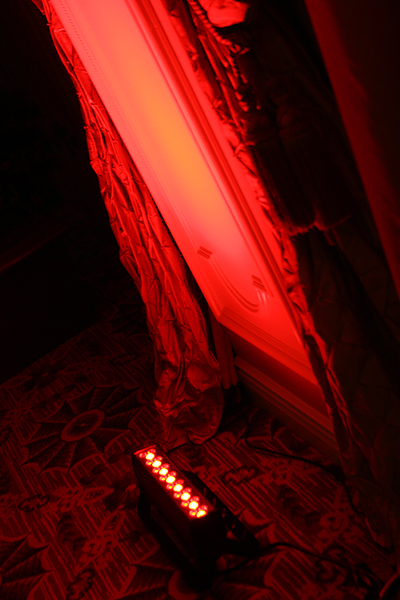 Wedding Reception Uplighting Wall Wash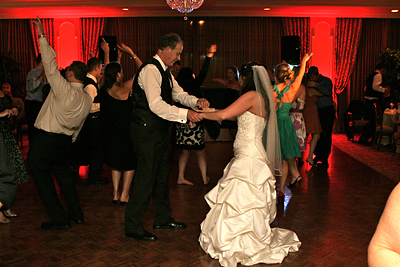 Color adds warmth to any Celebration
Video Demo:
A Center City High School Senior Prom:
Customer Assurance:
As the President of Silver Sound, DJ Paul Evans only accepts engagements with clients who have the highest expections for a great event focused on dancing, made possible with elegant to high-energy, diverse music programming and dynamic sound, lighting, and optional video offerings.