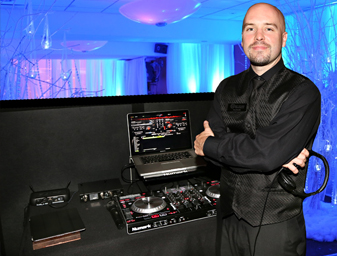 DAN J. BRESLIN'S RESUME
danbreslin@silversound.com
Mission Statement:


Dan's main focus is to deliver a superior entertainment experience built around YOUR
vision of
YOUR
event. As a professional entertainment director, disc jockey, and master of ceremonies, Dan is committed to assisting you in planning a celebration that exceeds the highest of expectations!
Dan Breslin is a
Five Star Silver Sound DJ
.
Thank You Notes & Letters:
McVey Wedding - Columbia Station -
Click here to read
Harris Wedding - Mendenhall Inn -
Click here to read
Experience:
Dan is third in a line of Silver Sound DJs, mentored by his brother and sister, both Silver Sound DJs before him. While Dan regularly entertains wedding receptions as a mainstay, he is well suited towards Bar/Bat Mitzvahs, School and College events. As a DJ of 11 years, Danís personal style is one of good humor and outgoing personality.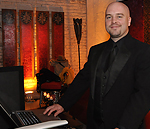 Skills:
Being versatile and able to please many different audiences, to read the crowd and predict what music will work in a given situation is what sets DJ Dan Breslin apart from the competition. Dan is an expert in mixing with smooth transitions from any generation to the present. He is considerate of requests made and has the uncanny ability to spontaneously mix the song in the format provided, when appropriate.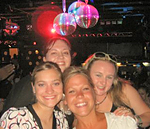 Music:
Dan's music library spans all time periods from Big Band to todayís Top 40, Dance & R&B. Dan will develop a music program and a timeline that works with your style and expectations for your event. If you're not sure what you want for your event, feel confident that Danís experience and skills will give you a memorable party.
Audio Equipment:
Four JBL EON self-powered speakers, Numark CD MIX-1 DJ Station, HP Laptop system, LaCie 160GB Firewire hard drive with a 25,000 song database, Samson UHF Synth 32 Handheld Wireless microphones, Apple iPod Nano
Lighting: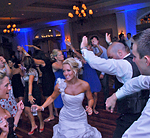 Caribbean blacklight effect, Martin Mania DC1 ambient water effect (video), Martin Mania DC2 ambient fire effect Mania DC1 (video), Chauvet Vue 1 LED Moon Flower effect (video)
Customer Assurance:
Dan's customers experience non-stop dance floor action, hard hitting sounds, and musical talent. For younger audiences and parties, Dan is known to provide a fun and interactive performance with a great mix of music, making for a night all will remember.
Click here to request a quote for Dan's services!
Click here to email Dan with any questions!




Dan Breslin's presentation in the Park Hyatt Philadelphia at the Bellevue
Silver Sound DJ Dan Breslin at The William Penn Inn